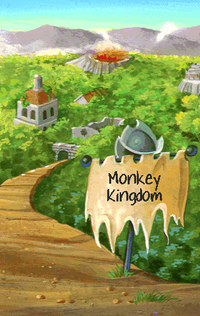 The Monkey Kingdom is a subarea of Numeria which appears in The ClueFinders 3rd Grade Adventures: The Mystery of Mathra.
Geography and Demography
Edit
The Monkey Kingdom is located in the Numerian Rainforest, northwest of the Goo Lagoon, and west of the Lost City, according to LapTrap's map of Numeria. The Monkey Kingdom is heavily forested and contains many stone buildings and structures. The northernmost part of the Monkey Kingdom contains mountains, which is where the Rings of Fire are located. The kingdom is mainly populated by monkeys, who possess human-like intelligence and can speak to people, although other creatures such as snakes and lizards are shown to live there as well.
Residents of the Monkey Kingdom
Edit
Activities in the Monkey Kingdom
Edit
In the Game
Edit
Joni, Santiago, and LapTrap go to the Monkey Kingdom to search for one of the keys to the Lost City. Vasco de Bongo tells that they'll need to collect Sneezeberries by helping out the various residents of the Monkey Kingdom in order to cross the Rings of Fire. Joni and Santiago eventually make it to the cave at the center of the Rings of Fire and collect the key there.
Subject-wise, the Monkey Kingdom contains all of the game's math-focused activities.
This section of the game was released as its own separate game, The Mystery of the Monkey Kingdom, which was a bonus disc.
Locations

Cluefinders
ClueFinders Clubhouse
Numeria | Monkey Kingdom | Goo Lagoon | Jungle Canopy | Lost City
Nile Kingdom | Cairo | Lost City
Living Island
Empire of the Plant People
Himalayan Village | Village Store | Cloth Shop | Library | Stable | Yak Pasture | Rock Cave | Ice Cave | Great Hall
Millennia | Crystal Caverns | Mystic Mountains | Mount Valdrock
Abandoned amusement park
Ultimate Toys
Mysterious Mansion